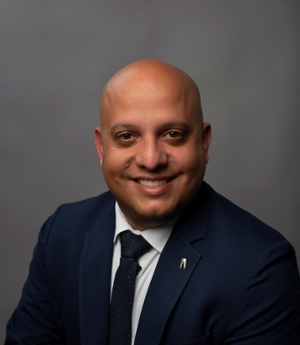 Welcome from the Professor and Chair of the Department of Prosthodontics at the College of Dental Medicine, Dr. Alexander A. Bendayan.  Our department is comprised of highly qualified Prosthodontists and experienced general dentists in addition to talented adjunct faculty with a passion to mentor students through all stages of dental restorations starting with the fundamentals of Prosthodontics concentrating in the core areas of fixed, complete and partial removable Prosthodontics, Implant Restorations, Cosmetic Restorative Treatment, and digital dentistry. In addition to these areas of dentistry, the Department also encompasses an introduction to Evidenced Based Dentistry, Dental Biomaterials, Clinical Occlusion, and several integrated courses to include the Clinical Practice of Dentistry Fundamentals and the Masticatory System Disorders.
The Department of Prosthodontics has a highly competitive Advanced Education Program in Prosthodontics. The Director of the Program is Dr. Niranjan Joshi, an NSU Alum, Board certified Prosthodontist and Fellow of the American Board of Prosthodontists (ACP). The program accepts four (4) students each year for its 36-month program. The program is very clinically based with highly skilled Board-Certified Prosthodontists mentoring the students in all aspects of Prosthodontics to include implant placement and restoration, sleep Medicine, complex esthetic and full mouth rehabilitations, maxillofacial prosthodontics as well as removable prosthodontic treatment. Here, at NSU, we are proud of the level of experience of our faculty, the diverse population of patients that allow our students to serve, treat and restore the oral health and function of our patients.
The predoctoral program offers an honors program whereby four senior dental students have the opportunity to treat more complex Prosthodontic patients with direct supervision from our postdoctoral faculty members and having the opportunity to interface with the postgraduate residents in their educational and clinical activities.
The Department integrates the use of digital workflows with intraoral scanners, three (3) and five (5) axes milling units, 3D printers and advanced computer aided design (CAD) software to interact with in-house and outside dental laboratories utilizing a conventional or digital workflow for the fabrication of dental restorations in university compliant portals. Our students are able to utilize digital technologies on their patients based on comprehensive treatment plans developed with the help of their faculty, gaining the necessary skills for their treatment and subsequent periodic care programs.
The students learn to treatment plan their patients for simple and complex dental care so that they graduate having an excellent evidenced based knowledge base and skill set to begin general practice dentistry, enroll in a general practice residency or a specialty program well equipped to succeed.  This is an exciting time in Dentistry and in Prosthodontics. I hope you have an opportunity to see the exciting things the Department of Prosthodontics has to offer for any dental student attending Nova Southeastern University, College of Dental Medicine.
Alexander A. Bendayan, D.D.S., C.A.G.S., M.B.A.
Professor and Chair
Department of Prosthodontics
Nova Southeastern University
College of Dental Medicine
3200 South University Drive
Ft. Lauderdale, FL 33328
e-mail: abendaya@nova.edu
Phone: 954-262-7379