Join Our Advanced Standing Program—You've Earned It!
You've already done the work; now you need a pathway to practice in the United States. Nova Southeastern University's Drs. Kiran and Pallavi Patel International Dental Graduate Program provides international dental school graduates with the education and experience required to earn a D.M.D. degree. This three-year accelerated program helps you transition into the system in the United States and is the only one of its kind in Florida. Program curriculum and delivery are the same as the current D.M.D. program.
Program Offers Cutting-Edge Facilities
The international graduate program is located on NSU's Tampa Bay Regional Campus. Operating out of a 19,000-square-foot space, the fully digitalized program includes 64 dental chairs, three surgical suites, a simulation lab, and supporting offices and classrooms, providing cutting-edge educational opportunities.
Gain Patient Care Experience
In the Clearwater dental office, international dental graduate students offer personal one-on-one dental care under faculty supervision. Using the latest digital technologies, students provide comprehensive dental services, including oral evaluations, preventative dental care, implant dentistry, prosthodontics, and more.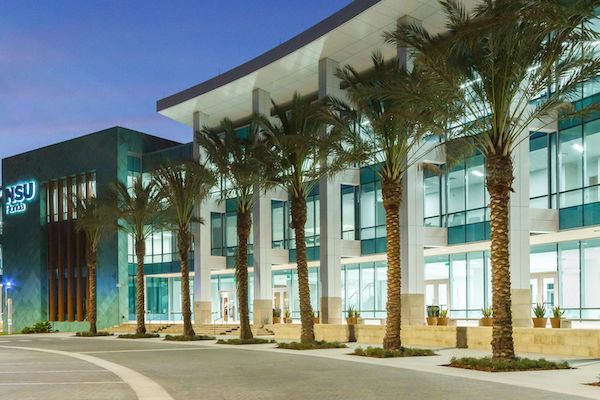 Quick Facts
Tuition
Tuition for the 2022-2023 academic year will be posted once available.
Curriculum
The program curriculum is the same as NSU's D.M.D. program and can be completed in 39 months. Assessment-based recommendations are considered on an ongoing basis to ensure continuous quality improvement. For this reason, the curriculum is subject to change. 
Application Deadlines
CAAPID Application Due: November 1
NSU Application Due: December 1
Delivery Options
The international dental program is delivered by a combination of videoconferencing, lecture capture, and onsite lectures and labs at NSU's Tampa Bay Regional Campus.
Why Earn Your Degree at NSU's College of Dental Medicine?
Postdoctoral Residencies
Residencies in endodontics, operative dentistry, oral surgery, orthodontics, pediatric dentistry, periodontics, prosthodontics, and general dentistry
Clinical Rotations
Experiential service learning opportunities build clinical skills
Community Outreach
Includes Give Kids A Smile Day, oral health education, international missions, and Florida Mission of Mercy
Innovative Curriculum
Doctoral curriculum devoted to primary and comprehensive care, and medically complex and special needs patients
Early Introduction
Faculty preceptors provide early introduction to clinical settings and the dentist/patient relationship
Research
Opportunities for predoctoral students and postdoctoral residents in areas of biomaterials, clinical product testing, regenerative medicine bioscience, and oral epidemiology and oral health policy
Previous
Next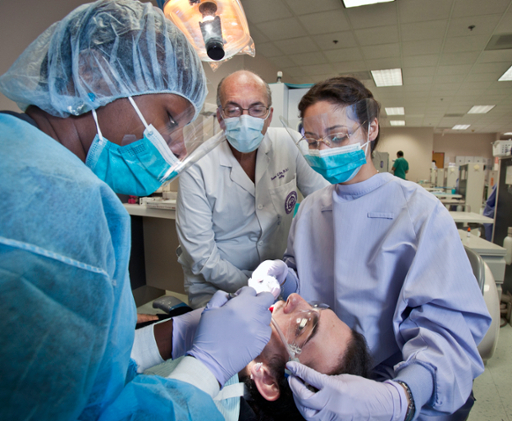 Get the NSU Edge
As a student at NSU, you're not just supported by faculty—you're propelled forward. It's part of the NSU Edge and what makes us all Sharks. The NSU Edge is characterized by low student-to-faculty ratio, advanced patient simulation technology, extensive resources, interprofessional service learning, and faculty and staff members who care about your success.
Admission Requirements
Nonrefundable Application Fee (USD)
Passing Score on Part I of National Board of Dental Examination or Integrated National Dental Board Exam
Psychomotor Bench Test & Interview
May Include a Typodont Tooth Preparation for Amalgam, and Typodont Tooth Preparation for a Full Metal Crown
Agency Evaluation of Foreign Degree
Materials for Admission Requirements
All materials needed for the above will be provided by NSU's College of Dental Medicine. The fee for the psychomotor bench test is $3,000. This fee is in addition to the tuition and regular fees for the international dental graduate program.
Step One: CAAPID Application
NSU participates in the Centralized Application for Advanced Placement for International Dentists (CAAPID), which provides an interactive, web-based application for the receipt and processing of all applications. CAAPID takes no part in the selection of students.
Go to the CAAPID Application
Complete your application
Send supporting documents listed below to CAAPID by November 1
CAAPID application
Official transcript from each college, professional school, or university attended, if coursework was taken at a U.S. institution
Official course-by-course evaluation and cumulative GPA
Official score from the Test of English as a Foreign Language (TOEFL)
Scores for Part I of the National Dental Board Examination or Integrated National Dental Board Examination. Request the scores be forwarded from the secretary of the National Board of Dental Examiners, located at 211 East Chicago Avenue, Chicago, IL 60611, to CAAPID. Please submit PART II scores also, if taken.
Three professional letters of recommendation. Letters may be completed by dental school faculty members who are well acquainted with the applicant's abilities or by individuals who can provide infor­mation relevant to the applicant's potential.
Coursework taken at foreign institutions must be evaluated for U.S. institution equivalence by an approved National Association of Credential Evaluation Services (NACES) organization, such as one of the services listed below.
World Education Services, Inc
Bowling Green Station
P.O. Box 5087
New York, NY 10274-5087
(212) 966-6311 • wes.org
Josef Silny & Associates, Inc.,
International Education Consultants
7101 SW 102nd Avenue
Miami, FL 33173
(305) 273-1616 • (305) 273-1338 (fax) • jsilny.org
Educational Credential Evaluators, Inc.
101 W. Pleasant Street, Suite 200
Milwaukee, WI 53212-3963
(414) 289-3400 • ece.org
It is the applicant's responsibility to have this coursework evaluated. An official course-by-course evaluation with a cumulative grade point average must be sent directly from the evalua­tion service to CAAPID.
Step Two: NSU Online Application
Please fill out the NSU application electronically and submit a nonrefundable, $50 application fee to NSU's Enrollment Processing Services (EPS) at the address below when notified by NSU that your application has been verified by CAAPID. NSU application deadline is December 1.
Submitting Your Materials
Please mail all documents to:
Mailing Address
Nova Southeastern University Enrollment Processing Services (EPS)
College of Dental Medicine, Office of Admissions
3301 College Avenue
P.O. Box 299000
Fort Lauderdale, FL 33329-9905
Inquiries Only
Nova Southeastern University
College of Dental Medicine, Office of Admissions
3301 College Avenue
Fort Lauderdale, Florida 33328-2018
Phone: (954) 262-1101 or 800-356-0026, ext. 21101