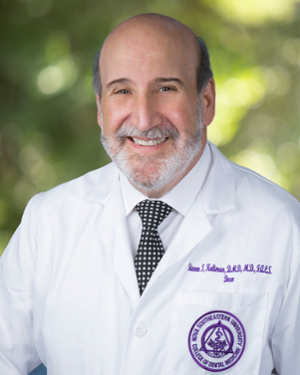 Welcome to the Nova Southeastern University College of Dental Medicine website! As you navigate through our website, you will meet our College of Dental Medicine community composed of our talented students, dedicated staff and outstanding faculty. Located in sunny South Florida, Fort Lauderdale is a great location to pursue a dental education.
Founded in 1997, Nova Southeastern University College of Dental Medicine has the distinction of being the first private dental college established in the state of Florida, and the first College of Dental Medicine established in partnership with a College of Osteopathic Medicine in the United States. The College of Dental Medicine is part of a dynamic Health Professions Division at Nova Southeastern University that includes osteopathic medicine, pharmacy, optometry, nursing and medical sciences. NSU's dental students take classes and interact with these other health professional students in both educational and community service activities.  
Our pre-doctoral students and postdoctoral residents represent the best of the strong applicant pool and are committed to becoming outstanding clinicians and leaders in their communities. Our students actively lead and participate in various community programs, ranging from Give Kids a Smile, local health fairs, oral health education activities, fun runs, international medical outreach programs, that will help prepare them for their future careers as leaders in dentistry. In our short history, our graduates are demonstrating their leadership in all phases of dentistry and giving back to the profession.
The NSU College of Dental Medicine's world class faculty is committed to the success of our students. Our faculty teach, conduct research and lecture throughout the world, contributing to the knowledge base that serves as the foundation for clinical dentistry. Curriculum innovation is ongoing as we work to continually improve our competency-based curriculum. Our dedicated clinical Team Leaders provide guidance and support as the pre-doctoral students provide comprehensive care for their family of patients. To provide even greater clinical competence in caring for medically complex and special needs populations, our educational program includes rotations to community facilities with faculty who have expertise in caring for these unique populations.
Currently, the College of Dental Medicine has an innovative joint DO/DMD degree with the College of Osteopathic Medicine, and a newly established joint DMD/Masters of Public Health degree. Other joint degrees are possible and faculty remain committed to helping students become the dental professionals they seek to be.
Enjoy visiting our College of Dental Medicine and Nova Southeastern University through our website. If I can provide you any assistance, please don't hesitate to contact me, at skaltman@nova.edu.
Sincerely,
Steven I. Kaltman D.M.D., M.D., FACS
Dean and Professor