Study Smarter for a Seamless Entry to Dental School
Join Nova Southeastern University's Master of Dental Science Certificate program. Designed to provide prospective dental students strong foundational knowledge in upper-level human biological sciences, the certificate makes them a more competitive dental school applicant and well prepared for entry into dental school.
This unique one-year certificate program not only prepares you academically for entry into dental school, but it may also reserve your seat into the Doctor of Dental Medicine (D.M.D.) program. Successful completion of the MDS program with an overall 3.6 GPA provides students a reserved seat in the next class of the D.M.D. program. The College of Dental Medicine will guarantee applicants an interview with a minimum overall 3.3 GPA from the M.D.S. program.
Why Earn Your Masters Degree at NSU's College of Dental Medicine?
Opportunity
This program affords a pathway for applicants that have not been accepted to a U.S. accredited dental school.
Advanced & Innovative Curriculum
This program provides potential dental school applicants with a unique opportunity to increase their foundational based knowledge in the medical biological sciences. The curriculum introduces students to a dental school culture by matriculating with the first-year dental class.
Meet Your Goals
Our one-year certificate program is designed for students interested in applying to U.S. dental schools.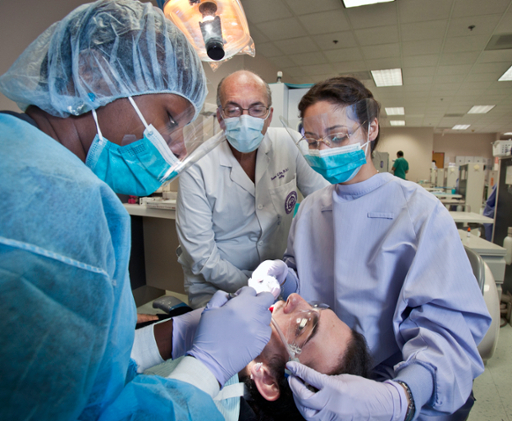 Get the NSU Edge by Reserving Your Seat in our D.M.D. Program
As a student at NSU, you're not just supported by faculty—you're propelled forward. It's part of the NSU Edge and what makes us all Sharks.  Our innovative Master of Dental Science certificate program is unique in that it offers direct entry into the D.M.D. program. Students who achieve pre-established academic benchmarks in the M.D.S. program will be offered a reserved seat in the CDM; those who do not achieve these benchmarks will be evaluated to see if they meet criteria for the guaranteed interview.
Quick Facts
Tuition
Tuition for the 2022-2023 academic year is $26,000 plus fees.
Curriculum
The program curriculum is 19 total credits and can be completed in one year, beginning in the fall.
Application Deadlines
AADSAS Application Due: November 15
NSU Application Due: December 15
Delivery Options
The College of Dental Medicine M.D.S. program is delivered by a combination of videoconferencing, lecture capture, and onsite lectures at our Ft. Lauderdale/Davie campus.
Program Curriculum
Fall Semester
Core Required Courses (10 Credit Hours)
Credits
CDM 1400
Anatomy Lecture/Lab*
(CDM 1400 / Credits: 5 )
5
CDM 1430
Histology
(CDM 1430 / Credits: 2 )
2
CDM 1410
Dental Microbiology
(CDM 1410 / Credits: 3 )
3
Winter Semester
Core Required Courses (9 Credit Hours)
Credits
CDM 1411
Dental Immunology
(CDM 1411 / Credits: 2 )
2
CDM 1420
Physiology
(CDM 1420 / Credits: 4 )
4
CDM 1440
Neuroanatomy Lecture/Lab
(CDM 1440 / Credits: 3 )
3
Admission Requirements
Recommended Total Science and Academic Average on the Dental Admission Test (DAT) 
Nonrefundable Application Fee (USD)
Required Courses
Students must also have earned a grade of 2.0 or better in each of the following required courses.
| | |
| --- | --- |
| Required Courses | Semester Hours |
| Biology with lab | 8 |
| Chemistry with lab | 8 |
| Organic Chemistry with lab          | 8 |
| Physics with lab                 | 8 |
| Biochemistry      | 3 |
| Microbiology      | 3 |
| English  | 6 |
Step One: AADSAS Application
NSU participates in the ADEA Associated American Dental Schools Application Service (ADEA AADSAS) which provides an interactive, web-based application for the receipt and processing of all applications. AADSAS takes no part in the selection of students.
Go to the AADSAS Application
Complete your application
Apply to the ADEA Associated American Dental Schools Application Service (ADEA AADSAS).
Send supporting documents listed below to AADSAS by November 15th
AADSAS application
DAT Test Scores
Official transcript from each college, professional school, or university attended.
Three professional letters of recommendation. Two from science professors and one from a liberal arts professor or by individuals who can provide infor­mation relevant to the applicant's potential.
Step Two: NSU Online Application
Please fill out the NSU application electronically and submit a nonrefundable, $50 application fee to NSU's Enrollment Processing Services (EPS) at the address below when notified by NSU that your application has been verified by AADSAS. NSU application deadline is December 15.
Submitting Your Materials
Please mail all documents to:
Mailing Address
Nova Southeastern University Enrollment Processing Services (EPS)
College of Dental Medicine, Office of Admissions
3301 College Avenue
P.O. Box 299000
Fort Lauderdale, FL 33329-9905
Inquiries Only
Nova Southeastern University
College of Dental Medicine, Office of Admissions
3301 College Avenue
Fort Lauderdale, Florida 33328-2018
Phone: (954) 262-1101 or 800-356-0026, ext. 21101